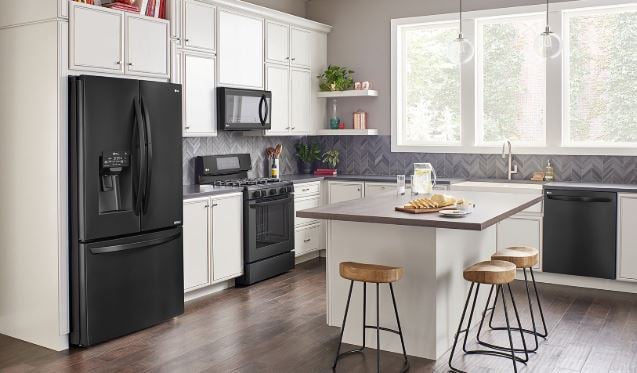 Matte Black Everything
Matte black fixtures and hardware are growing in popularity in 2019
What was once a minimal and stark choice in all white modern kitchens is now a fun way to subtly add contrast to wood cabinets and more traditional, Shaker-style kitchens.
As our devices get smarter, so, too, do our kitchens. Professional Kitchen Designers don't see the trend going away, tech is now seamlessly integrated into appliances. The perfect example? Samsung's Family Hub refrigerator, which features a touch screen, interior cameras, and WiFi connectivity, so you can search recipes from the fridge, see what's inside while you're shopping, and leave notes and reminders to family members. Doesn't get much smarter than that.
As of early 2019, there are now a total of seven brands with black stainless steel appliances on the market - Frigidaire, GE, KitchenAid, LG, Samsung, Whirlpool, and Bosch.
Click the links below to view the full line of black stainless steel products currently offered by each manufacturer, with specs and prices: