Long Island Creative Contracting Gives Back
Giving back to our community through volunteer groups, non-profit organizations, charity or other means does so much to help those in need and contribute to the common good. Long Island Creative Contracting tries to lend it's support in different ways, it's important that we give back locally as much as we can.
---

April 2023
This summer, Long Island Creative Contracting, Inc. has made a generous donation of a scholarship for a full week of camp to a lucky Long Island student.
Located in Brookhaven, New York; "CEED" the Center for Environmental Education and Discovery is hosting an amazing Summer Nature Experience where students will
Meet & greet live animals

Search for signs of wildlife in our environment, and maintain live animals in a marine tank and a vivarium!

Learn about our local ecosystem through cool science experiments

Discover how plants and animals live and work together

and so much more!!
Congratulations to the lucky scholarship winner and all of the students who get the opportunity to participate in this incredible Long Island Summer Nature Experience.
To learn more about CEED, its summer programs, and other educational offerings, click the link below.
---
November 2020
CEED-The Center for Environmental Education & Discovery, CEED
CEED is a nature center that inspires connections to the joys of nature through education and experience. The organization serves children, youth, and adults through public nature programs and events, school and community-based environmental education, conservation projects, live animal ambassadors, and more!
Long Island Creative Contracting has recently made a donation to CEED's Nature of Science seminar. November 4th kicks off a 2 session class on Food, Farms, & Harvest. Our contribution will be going to supplies and equipment to aid students and their educators while learning where our food comes from, how it's grown, what plants need, how local Native Americans grew food, and more. The students will even get to grow some food of their own! We feel its imperative to spread the knowledge on how to take care of our local environment and how to preserve it for many years to come. Every donation counts and we hope the CEED can be a part of your next charitable donation. Click here to learn more about CEED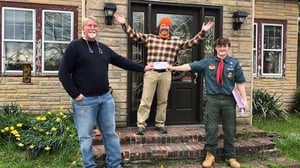 Thank you again for your generous donation to my Eagle Project. With the current quarantine situation, your donation has made it possible for me to fully fund the construction of the handicap-accessible ramp at CEED. I look forward to the actual build and will keep you informed on dates and times if you would like to come by and offer your expertise.
Stay well,
Andy Pandaliano-Boy Scout
CENTER FOR ENVIRONMENTAL EDUCATION &DISCOVERY
August 2020 Update: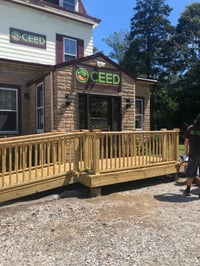 On August 20th, both Andy and LICC accepted a Certificate of Appreciation from Brookhaven Town Supervisor Ed Roman. With the help of our donation, Andy and other volunteers a newly engineered ramp was unveiled to welcome all to CEED's front door entrance. We look forward to continuing to show our support to CEED and encourage all to learn about the great educational programs they have to offer to the community.
---
The Nitz Community Center
The Nitz Community Center (NCC) opened on August 1, 2019. NCC was named to honor the memory of Shawn Nitz, a strong advocate in the self-determination community. They offer activities and an inclusive space for interaction with peers. Adults eighteen and over with developmental disabilities as well as neurotypical individuals as are welcomed, members.
Nitz has been a great outlet for a friend of ours and others in the community. I have seen firsthand how John Ciervo has helped that self-advocate and let their voices be heard.
LICC, Inc. has been happy to donate shirts for the members as well as monetary contributions throughout the year to help this worthy cause.
Please visit the NCC site to learn more about their activities and the valuable services The Nitz Community Center has to offer.
---